Matanoni Faith Baptist Church
Background
The Matanoni Faith Baptist Church is part of the International Faith Baptist Churches based in Kwale town. The church is located approximately 33 Kilometers north-west of Kilifi or approximately 95 Kilometers North of the Port of Mombasa on the North Coast of Kenya.The church is part of the International Faith Baptist Ministries based in Kwale on the South Coast of Kenya. The Pastor of the church is Andrew Pite (Tel: +254-721-582386/ +254-738-079689)The Matanoni Faith Baptist Church stands on a property that was purchased by Rev. Pite in 1990, when church meetings were held under a tree and later under a temporary shelter. In 1990, Pastor Jim Horne supported the construction of a permanent structure which stands to this day.
Location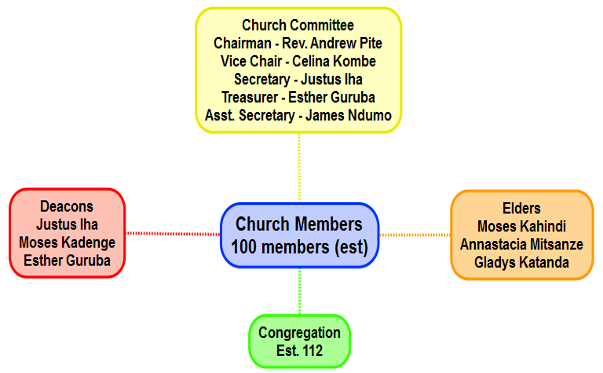 Vision, Mission and Goals
VisionTo make disciples in order to reach more fro Christ and make them firm in Him.MissionTo preach the Gospel and equip the Church in the true knowledge of God's Word. GoalsPlanting new churches to meet the Spiritual needs of the commuityIncrease membership by proselytizingSpreading God's Word through Hospitals, Schools, Prisons and the wider commuunityEstablish a Bible College for the training of more Pastors for rural churches
Ministries & Outreach
MinistriesThe church has active women and youth ministriesSeminars to root members in the word are are conducted prior to Baptism & membership intakeIt plans to start home fellowship and bible study groupsOutreachDoor-to-door ministry around religious holidaysDuring the week, the church building houses an ECD nursery school.
Picture Gallery
Matanoni Pastors House
https://silentstones.org/wp-content/uploads/bfi_thumb/Matanoni-Pastors-House-377373nrtpbo6yr5kymznk.jpg
The mud walled structure tha tis the Pastor's house

Matanoni Church
https://silentstones.org/wp-content/uploads/bfi_thumb/Matanoni-Church-377373nrtpbo6yr5kymznk.jpg
The church structure is permanent with only a few modifications to enhance security

Previous Image
Next Image
info heading
info content
More Links:Please check back later for updates.