Msumarini Temple of Praise Church
Background
The Msumarini Temple of Praise Church is located approximately 50 Kilometers north of Malindi or 165 Kilometers north of the Port of Mombasa in the North Coast of Kenya.
The overseer of the church district in the Coastal Area is William David Toya.The church is part of the Alpha Missions, Deliverance and Healing Ministry of Kenya (Website: http://alphamissions.blogspot.co.ke/; Facebook https://www.facebook.com/alphamissions/) which is headquartered at Nairobi and headed by Bishop Ernest Kenyatta Mwilitsa.
The Pastor of the church is Paul Mwele (Tel: +254-721-987654).
Pastor Paul started the church in 2008 where they were located at Kanagoni primary School. In 2011, the church under Pastor Paul purchased the land and constructed the church building.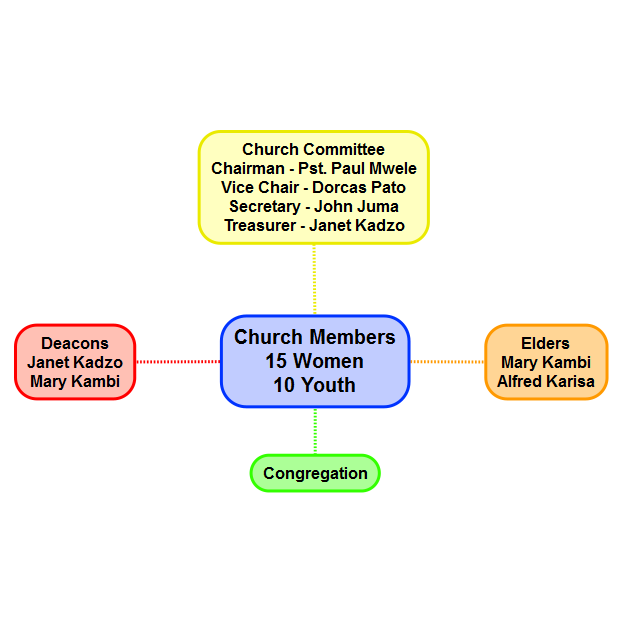 Vision, Mission and Goals
VisionTo spread the gospel and compassionately change livesMissionTo spread the Word and through preaching, christian films and initiating community and social projects to benefit the communityGoalsIncrease membership by proselytizingBuild a bigger permanent church structureImprove lives of the community through:Economic activity – fishing etcReduced household expenses – provision of waterReduce alcohol dependency on palm toddy (tembo la mnazi)
Ministries & Outreach
MinistriesThe church has active women and youth ministriesSeminars to root members in the word are are conducted prior to Baptism & membership intakeIt plans to start home fellowship and bible study groupsOutreachDoor-to-door ministry around religious holidaysDuring the week, the church building houses an ECD nursery school.